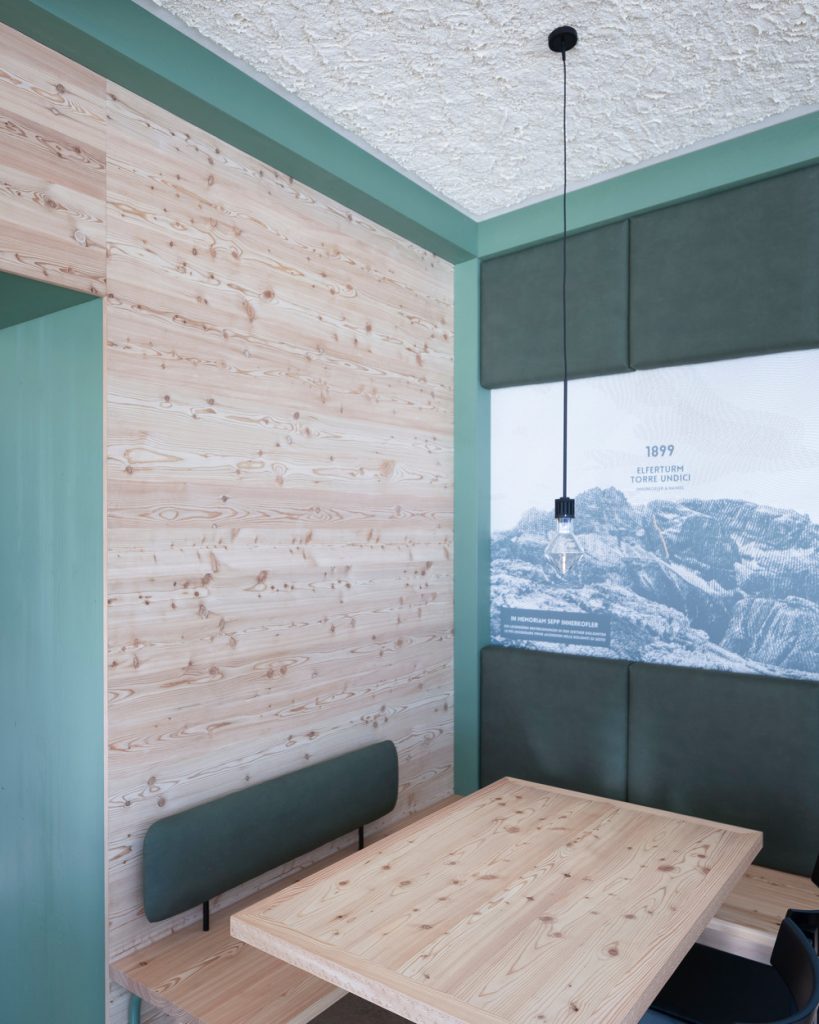 Neatly tucked into a snowdrift, this Italian bistro uses stripped-down interiors to showcase views of the nearby Dolomites.
Snow-capped trees and rugged vistas surround Bistro Bergsteier, which encroaches as little as possible on the landscape of the Fiscalina Valley. Thickly wrapped in a blanket of snow, the Alpine restaurant keeps a low profile – and space is equally tight inside, where Plasma Studio has taken a minimal Nordic approach to its interiors.
Sliding glass doors surround the mountain restaurant, which is located near a popular hiking trail in Sesto in Italy's South Tyrol, next to a historic building. Plasma Studio was inspired by this listed structure, installing larch wood cladding and sprayed plaster ceilings. Bright green details enliven the space, with ceiling beams, counter edges, and table legs painted in the same sage hue.
Photographs taken by Michael and Sepp Innerkofler – mountaineers and relatives of the bistro's owners – have been incorporated into the Italian restaurant, enticing diners to get out and hike after finishing a classic South Tyrolean dish.
Via Val Fiscalina 33,I-39030 Sesto/Val Fiscalina, Alta Pusteria, Dolomites, South Tyrol Italy
Kitzbühel Chalet offers alpine minimalism on the outskirts of the forest